Experience the AIDS 2024 Global Village!
The AIDS 2024 Global Village is a diverse and vibrant space where communities from all over the world gather to connect, share and learn from each other.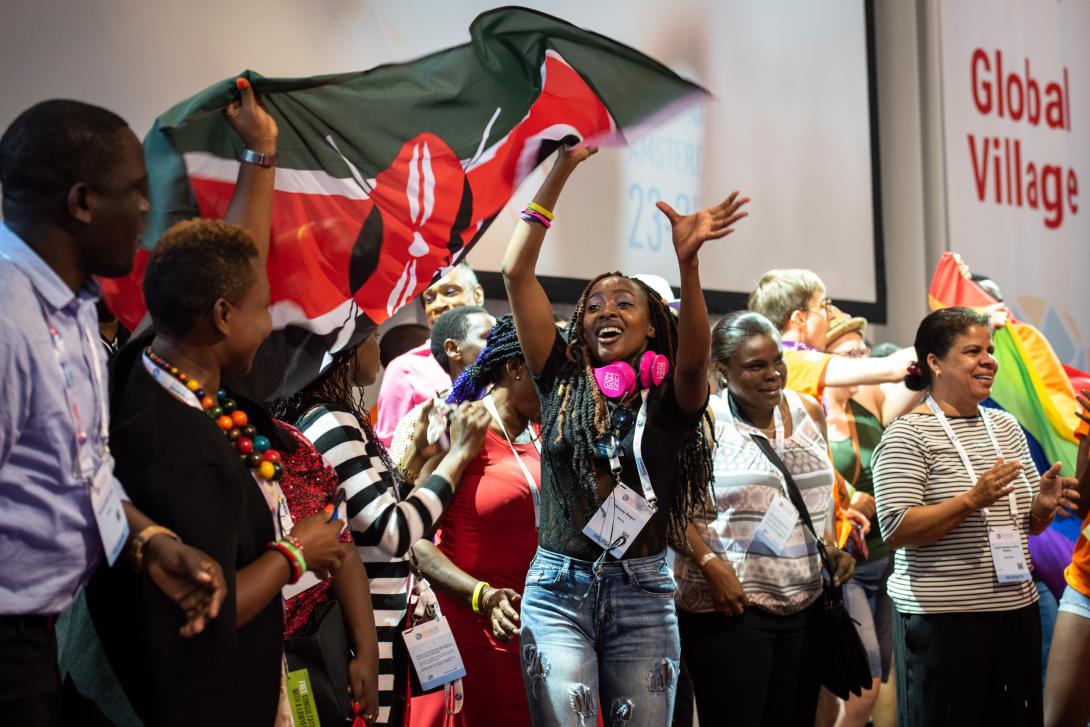 A blend of speaker sessions, workshops and cultural activities, the Global Village is also a hub for watching live performances, broadening networks and exploring marketplace booths and art exhibits. The programme is created from public applications from a wide range of individuals, groups and organizations.
The Global Village intersects the main conference programme, blending scientific sessions with cultural activities, live performances, networking zones, NGO booths, marketplace booths and art exhibits. Here, communities can demonstrate the application of science and good leadership, and the public in the conference host city is invited to see how science translates into community action and intervention.
The Global Village is created from public applications from a diverse range of individuals, groups and organizations for a variety of activities. A team of reviewers will score all proposals submitted for the Global Village based on a blind scoring system. 
Submissions for Global Village activities will be accepted from 15 November 2023 until 23 January 2024. If you have any questions about submitting proposals or the AIDS 2024 Global Village in general, please contact [email protected]. 

The Global Village activities
Art exhibits include sculptures, installations, photography and paintings about HIV issues by professional and amateur artists. The art will be exhibited throughout the Global Village area in Munich. Those artists who are interested will also have the opportunity to upload accompanying visual and audio material to the virtual conference platform for on-demand viewing. 
Films flagging HIV-related issues, including relevant areas, such as sexual and reproductive health, HIV and co-infections, stigma and discrimination, and human rights, will also be available for both in-person and virtual participants. Scheduled screenings will take place in the Global Village; films will also be available on demand on the virtual conference platform. 
Live performances display music, dance and theatre that address issues in the context of any of the following: HIV and other sexually transmitted infections; sexual and reproductive health; HIV and co-infections; stigma and discrimination; and human rights. The live performances will take place in Munich on the main stage. 
Marketplace booths provide HIV-related non-governmental organizations (NGOs) and projects with an opportunity to sell their products to generate income for reinvestment into HIV programming. They will take place only in person in Munich. 
Networking zones are spaces where local and international groups can meet and discuss specific thematic areas. They will take place only in person in Munich. 
NGO booths highlight the work of international civil society-led HIV programmes. They will take place only in person in Munich; however, if representatives wish, their organizations will be listed with contact information on the virtual conference platform. 
Sessions feature panel discussions, debates and presentations, with opportunities for Q&As. The focus of these one-hour sessions will be on current and emerging HIV-related topics, often with specific emphasis on key and affected populations. All sessions must have an in-person moderator and speaker in Munich. However, additional online participation is possible. These sessions will be streamed live on the AIDS 2024 virtual platform, where conference delegates will also be able to access them for subsequent on-demand viewing. Audience engagement will use the session room audio, as well as the Q&A feature of the virtual platform, as per the choice of the session organizer. 
Workshops showcase community programmes that effectively demonstrate best practice in strengthening public health outcomes in HIV treatment, prevention, care and support. Workshops emphasize the importance of building skills and capacity in peer-driven programmes and services that illustrate how science translates into action. By sharing the successes of global community responses to HIV, workshops emphasize the importance of building partnerships and strengthening networks between civil society, policy makers and health professionals. Workshops will take place in person only. 

Youth Pavilion
The Youth Pavilion is the main networking space for young people. As part of the Global Village, it is a space to host youth-led and youth-related meetings and forums that highlight achievements of young people, facilitate networking opportunities, and engage participants in dialogue.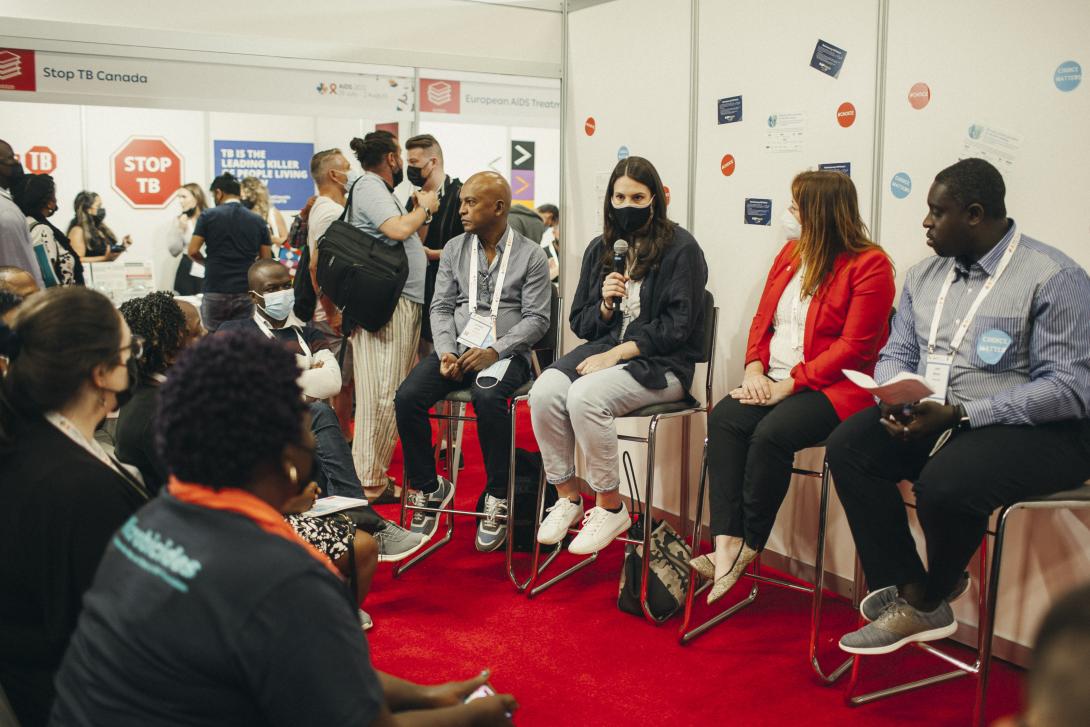 Young people will play an active role in all aspects of AIDS 2024. Young people will not only be delegates; they will also be activity organizers, speakers, leaders, and peers. The AIDS 2024 Munich Youth Force aims to be the driving force behind an inclusive and meaningful youth programme that represents young people in all their diversity. The Youth Force sets its own programming to demonstrate the work and needs of young people worldwide.
In addition to having an organizing role at the conference, the Youth Force creates a unique space – the Youth Pavilion – for young people from different communities and regions to establish connections with each other; this is an important requirement for an effective HIV response. Establishing these connections among young people in the field early in their careers strengthens the relations within the global HIV community and enables future collaborations. Youth Pavilion activities include cultural and educational performances, presentations, workshops, and panel discussions.
The Youth Pavilion is also aimed at providing a space for young people to participate in youth-specific activities at the conference. Another key objective is to promote the value of intergenerational exchange between older and younger people involved in the global response to HIV. In this way, we encourage all young participants to engage in all parts of the conference programme, as well as youth-specific activities, in Munich and virtually. 
Global Village objectives
Submissions should respond to one or more of the following objectives for the AIDS 2024 Global Village:
Align with the AIDS 2024 theme: Put people first!

Create a vibrant cultural experience for in-person and virtual delegates and the public living in and visiting Munich.

Illustrate how peaceful societies actively ensure healthy outcomes for people living with and affected by HIV through HIV programmes that integrate human rights and gender equality.

Demonstrate collective action that places people living with and affected by HIV at the core of programmes and actions, ensuring that no one is left behind. 

Build and support the participation and visibility of people living with and affected by HIV in guiding and leading the global response to HIV.

Showcase how governments can support civil society and community engagement in the HIV response and public health – and why their support matters.

Promote the sharing of learning and counsel between people of all generations in the global HIV response.

Provide a platform for adolescents and young people to promote their interests and meaningful participation in AIDS 2024. This will be primarily through the Youth Pavilion, supported by the AIDS 2024 Munich Youth Force.

Encourage activities that unpack issues of racism and HIV. Illustrate how racism works against healthy outcomes for people living with and affected by HIV and related conditions.

Celebrate the successes and discuss the challenges of the HIV response, particularly in eastern Europe and central Asia where the epidemic is driven by a lack of access to health services for people who use drugs. 
Support for Global Village main organizers and co-organizers
Global Village organizers receive one free registration for AIDS 2024 for each Global Village activity. If you are a Global Village activity organizer or co-organizer and need additional financial support to attend AIDS 2024, please apply for a scholarship. Those whose submissions are selected for the conference will be prioritized in the scholarship selection.
The main organizer and co-organizer(s) will find their Global Village submission listed on the last page of their AIDS 2024 Scholarship application. Each person must apply separately for a scholarship, using the same email address for their scholarship application and Global Village submission so that the two can be linked. Please note that if the organizer changes after the scholarship is awarded, the scholarship will be cancelled unless a request is made by 1 June 2024 to transfer it to the new organizer.
Applications for scholarships for AIDS 2024 close on 23 January 2024, 23:59 CET. You can find more information on scholarships here.