Monkeypox is a virus that causes illness in humans and is usually found, or endemic, in central and West Africa. Since 13 May 2022, monkeypox has been found in multiple countries outside the endemic areas. 
On 23 July 2022, the World Health Organization (WHO) declared monkeypox a Public Health Emergency of International Concern as more than 18,000 cases had been identified globally.
Monkeypox causes fever, muscle pains, headache, swollen lymph nodes and low energy with a skin rash that usually starts one to three days after the fever. Multiple skin lesions can be found on the face, palms of the hands, soles of the feet, mouth or genitals. In the current outbreak, some people are experiencing painful anal and genital lesions, often before having a fever. Symptoms of monkeypox can last for two to four weeks. Children, pregnant women and people who are immunocompromised can be more likely to develop more severe illness.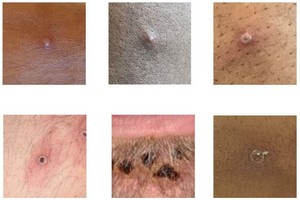 How is monkeypox transmitted from person to person?
People with monkeypox are most infectious when they have symptoms. The virus is transmitted by close physical contact. Skin lesions, respiratory droplets, bodily fluids and contaminated bedding or towels can all present a risk of being exposed to monkeypox. Scientists are currently investigating if monkeypox can be transmitted sexually or whether it is from skin-to-skin contact with a sexual partner.
Who is affected by monkeypox?
Anyone, of any age or sexuality, with or without underlying health conditions can get monkeypox. A person who has close contact with someone with symptoms of monkeypox is at the highest risk. Children, pregnant women and people who are immunocompromised can be more likely to develop more severe illness. People with undiagnosed or advanced HIV may be more vulnerable to severe monkeypox, and require more treatment and support to recover fully.    
In this outbreak, many of the new cases are being found in gay men and other men who have sex with men. Parties, bars and large gatherings can result in a high risk of exposure. Health authorities should work closely with communities that are most affected to increase awareness of the signs and symptoms so that everyone can protect themselves and others. Monkeypox can affect anyone and all responses to this outbreak should avoid stigma or blame.  
What do people living with HIV need to know about monkeypox?
Most people who fall ill with monkeypox have a mild illness and recover naturally. People with lowered immune systems may be at risk of more severe illness. It is important for all people living with HIV to seek medical advice if they develop symptoms or have contact with anyone with monkeypox. As with other viruses, like COVID-19, staying as healthy as possible, taking antiretroviral treatment regularly to reduce viral load and avoiding close contact with people with symptoms will help reduce the risk of falling ill. If you do not know your HIV status, take an HIV test. If you test positive, then it is important to start HIV treatment as soon as possible.
What should I do if I have symptoms of monkeypox?
If you think you have symptoms of monkeypox, contact your healthcare provider for advice. If possible, phone the clinic before you attend so they can prepare for your appointment. Your healthcare provider will help you get a test for monkeypox and advise you on what steps to take to stay healthy and protect other people. 
If you have symptoms, reduce close physical contact with any sexual partners, friends and family to protect them from the virus. If possible, isolate at home, including from pets, until you no longer have a rash or your lesions have dried, scabbed over and fallen off. Try to stay in an area of your home separate from other household members, such as a different room and away from shared areas. To reduce the risk to your household, wear a facemask and cover your skin lesions if you need to use shared rooms. If you must leave your home for medical appointments or other urgent needs, wear a facemask, cover your lesions and avoid using crowded public transport. 
Anyone with symptoms of monkeypox should avoid travel, including international travel.
What do I do if I am in contact with someone with monkeypox?
If you have close contact with someone who is confirmed to have monkeypox, contact your healthcare provider for advice. Check for symptoms of a high temperature, swollen lymph nodes or a rash for 21 days after your last contact with the person with monkeypox; 21 days is thought to be how long it takes for the virus to cause symptoms. The symptoms of monkeypox can be similar to other viruses, so if you develop any symptoms during this time, seek medical advice so you can be tested for monkeypox.
How can I protect myself and others from monkeypox?
Try to avoid direct skin-to-skin or face-to-face contact, including sexual contact, with anyone who has symptoms. If you are in close contact with someone with symptoms, encourage them to self-isolate and seek healthcare advice. If you live with someone with symptoms, ask them to cover any skin lesions with clothing; regularly wash your hands; and wear a facemask and disposable gloves when providing physical care or handling their clothing or bedding.
Scientists are currently investigating if monkeypox can be transmitted sexually. Using condoms helps prevent sexually transmitted infections, including HIV. While we do not yet know if condoms reduce the risk of transmitting monkeypox, the World Health Organization (WHO) recommends avoiding sex until symptoms clear and using condoms for 12 weeks after recovery to protect sexual partners.
Is there a vaccine for monkeypox?
Vaccines for smallpox also provide some protection against monkeypox. People who had a smallpox vaccine before the virus was eradicated in 1980 may have some protection against monkeypox. Two vaccines (MVA-BN and LC16) are approved for use against monkeypox. Vaccines, where available, are being used on a case-by-case basis for close contacts of people with monkeypox and individuals with a high risk of exposure. Scientists are investigating how effective the available vaccines are against monkeypox and the number of doses and time required to reduce the chance of infection. Anyone who receives a vaccination against monkeypox should continue to use protective measures and take precautions to protect themselves and others from the virus as it may take several weeks for the vaccine to work.