The 1980s was a decade of despair but also discovery.
On our second episode of HIV unmuted, Nobel Laureate Professor Françoise Barré-Sinoussi shares the behind-the-scenes story of how she co-discovered HIV, the virus that causes AIDS. This breakthrough provided the first big scientific step forward and hope for treatment.
We are also joined by:
Neal Blewett, Australia's Health Minister (1983-1991), on leading his country's forward-thinking bipartisan efforts
Long-term survivor, Pacific Islander Vince Crisostomo, on facing mounting loss, fear and stigma
South African, Vuyiseka Dubula, who busts the myths that drove her to activism
Guest bios
Françoise Barré-Sinoussi, IAS President 2012-2014, Co-discoverer of HIV in 1983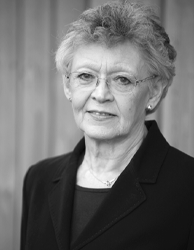 Françoise Barré-Sinoussi, PhD, won the Nobel Prize for Medicine in 2008 for the co-discovery of HIV (with Luc Montagnier) at the Institut Pasteur in France in 1983. She has been involved in retrovirology research since the early 1970s. As Research Director at the National Institute for Health and Medical Research (INSERM) from 1992 to 2015 and Professor at Pasteur, she led research programmes on HIV/AIDS pathogenesis, in particular on mechanisms required to control HIV/SIV infection and/or harmful T-cell activation induced in response to HIV/SIV infection. Professor Barré-Sinoussi has also strongly promoted multidisciplinary and translational science. In 2010, she launched the Toward an HIV Cure initiative at IAS – the International AIDS Society – as part of her advocacy to accelerate scientific evidence-based public health interventions on HIV/AIDS prevention, care and treatment. She has extensive experience in working in resource-limited settings through the Institut Pasteur International Network and the coordination of ANRS research programmes in Cambodia and Vietnam; this is in line with her commitment to building capacity, training and technology transfers in Africa and Southeast Asia. Today, she serves as Honorary President of the Institut Pasteur International Network and the Virology Department of the Institut Pasteur.
Professor Barré-Sinoussi is the author and co-author of more than 300 original publications and more than 125 review articles. She has been an invited speaker at more than 400 international meetings or conferences. She was President of the IAS from 2012 to 2014 and is still a member or chair of several international scientific advisory panels and boards. Since 2009, she has been a member of the National Academy of Science in France.
She was recently elevated to the rank of Grand Cross of the French Legion of Honor.
Neal Blewett, Australia's Health Minister (1983-1991)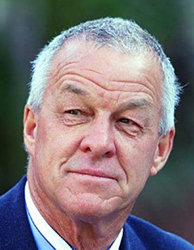 After a distinguished academic career, including a period as Professor of Political Theory and Institutions at Flinders University, Neal Blewett entered Australia's Federal Parliament in 1977, as Labor member for Bonython. In 1983, he became Minister for Health in the government of Prime Minister Bob Hawke. Over the next seven years, he was the political architect of Medicare, the publicly funded national healthcare scheme. Dr Blewett was also responsible for the development of Australia's AIDS policies, played a key role in the first national drugs campaign and worked for a greater emphasis in national health policies on the prevention of diseases. He served later as Minister for Trade and Overseas Development and as Minister for Social Security. He retired from Parliament in 1994 and became Australian High Commissioner to London in that year, and then served on the Executive Board of the World Health Organization from 1995 to 1998. In recognition of his services to Australian society, he was made a Companion in the Order of Australia in 1995.
Vince Crisostomo, Director of Aging Services, San Francisco AIDS Foundation, USA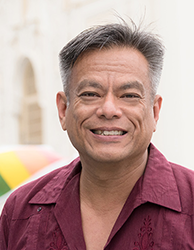 Vince Crisostomo is a gay Chamorro (Pacific Islander) who has been living with HIV for more than two decades. He believes in the power of community and is passionate about bringing healthcare and social justice equity to people of every sexual identity, HIV status, gender, race and age. Over his 30-year career, Mr Crisostomo has worked in the US and Asia Pacific region as an HIV educator and executive director for community-based organizations, including the Coral Life Foundation and 7 Sisters. From 2009 to 2010, he served as the UNAIDS Asia Pacific NGO delegate, and more recently, as Co-Chair of the HIV and Aging Work Group of San Francisco's Long-Term Care Coordinating Council. In 2019, Mr Crisostomo was honoured as a Community Grand Marshal for the SF Pride Parade and Celebration. He is currently the Director of Aging Services at the San Francisco AIDS Foundation.
Photo: Michael Kerner Photography
Vuyiseka Dubula, Director of the Africa Centre for HIV/AIDS Management, Stellenbosch University, South Africa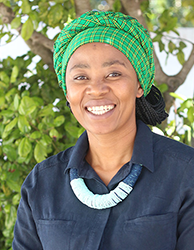 Vuyiseka Dubula has been involved with the Treatment Action Campaign (TAC) in South Africa in multiple roles since 2001, including eight years more recently as its General Secretary (Executive Director). Dr Dubula joined Sonke Gender Justice as Director of its policy and accountability unit in 2014 and became Director of programmes in 2017. She is now the Director of the Africa Centre for HIV/AIDS Management at Stellenbosch University in South Africa. She also has experience in academic postgraduate teaching and student supervision from her lecturing role on social aspects of HIV/AIDS at the University of Stellenbosch.
She has openly lived with HIV for almost two decades and has been a leader of people living with HIV by serving on the South African National AIDS Council. Dr Dubula was a founder of the Activist Centre for Education & Development in 2009; it facilitates access to higher education for women living with HIV and creates platforms for community activist leaders, particularly women, to reflect, write and record their stories.
Dr Dubula has received various awards, including the Global Leadership Award from Acacia Global (2015) and the John Lloyd Foundation Leadership Award (2010), and being recognized by the University of Oslo as a "courageous leader" (2004).
In 2021, she was awarded a PhD for her work titled "Too Poor to be Treated: Bottom-up Advocacy by HIV-Positive Activists in Khayelitsha and Lusikisiki South Africa."
Read the transcript
HIV unmuted: Episode 2 transcript
Femi Oke: Welcome to HIV unmuted, the IAS – International AIDS Society's – podcast. I'm your host, Femi Oke. It's now been 40 years since AIDS was first reported. Our last episode focused on the emergence of AIDS in 1981 and the failed promise of a vaccine, which 40 years on, still remains elusive. We now move to the 1983 discovery of HIV, the virus that causes AIDS, believed to have originated in chimpanzees. The discovery of HIV provided the first big scientific step forward and hope for treatment.
Let's go back to the start of 1983, just before the virus that causes AIDS was discovered. As far as Neal Blewett, Australia's new Health Minister, knew, AIDS wasn't a priority.
Neal Blewett: It was on the 12th of March, 1983, the day after the new Australian Government was sworn in. I had this meeting with all the senior members of the Health Department, who were to brief me on their understanding of labour policies. And then in the afternoon of the meeting, there came this thing called GRID: gay-related immune deficiency. And they also told me that we'd had no cases in Australia. Now, that was incorrect because the first case in Australia had occurred in late 1982, but the state government had not yet reported it to the Commonwealth government. Now, I'd vaguely known of the issue in the United States, but it hadn't really pricked my health conscience in any sense. I'd just picked it up in Time Magazine and things like that.
Femi Oke: Unaware that AIDS was already in Australia, the new Health Minister focused on other matters.
Neal Blewett: It was partly because of the other big health issues that, in that period, if anything, there was not the attention that perhaps should have been paid to it. For instance, my Prime Minister had given me instructions that the new national health scheme had to be in place by February 1984.
News reporter: The task is to win the future for Australia and all Australians.
Femi Oke: In the United States, AIDS cases were increasing to concerning levels. Vince Crisostomo, a Pacific Islander AIDS activist, recalls when he learned of his own diagnosis.
Vince Crisostomo: I remember, I thought I had strep throat. I went to this clinic, and when they found out I was a gay man, they said, "Oh, you need to go here." And so, I went to this other clinic, and … somehow, I was talked into getting an HIV test. And then I thought, "Well, it's not going to matter because I'm not going to have it." And so, a month later, I got home and there was a card that said, "Please come back to the clinic. We need to talk to you about your test." So, I went back. The doctor just started talking about HIV and AIDS, kept talking, and then she blurted out, "You're HIV positive." And I had to stop her again and say, "What does that mean?" She goes, "It means you've been exposed to HIV, and most likely you'll develop AIDS." So, my first thing was, "Well, how long do I have to live?" I was 28, and she said, "I don't expect that you'll see 30."
Femi Oke: There was no treatment – no support at all – and continued apathy from world leaders.
Vince Crisostomo: I mean, it was years before the administration … did anything or said anything.
Femi Oke: In Australia, it took the stories of three babies with AIDS to galvanize the nation.
Neal Blewett: It wasn't until 15 months into the government that suddenly in Queensland, three babies died of AIDS as a result of blood transfusions in hospitals. It occurred during an election, on the eve of an election as well. So, the Prime Minister was very concerned that we take action, and from then on, AIDS was central in Australian politics.
Femi Oke: Like in Australia, it was a very public death that shook the US into action. AIDS had already taken a heavy toll on America's gay population, but it wasn't until the US President's good friend, actor Rock Hudson, died of AIDS, that President Reagan spoke out.
President Ronald Reagan: We've declared AIDS public health enemy number one.
Femi Oke: But Reagan's speech didn't stop the fear.
Vince Crisostomo: I remember walking with a friend of mine in the village, and him running into another friend, a woman who was clearly a mother and was pushing a baby in a stroller. My friend went to go say hello to the baby, and she said, "Stop." It was a little freaky. They weren't worried about him doing anything to the child. It was they were worried about the child getting AIDS.
Femi Oke: In Australia, fear that AIDS would begin to spread in the heterosexual population led public health authorities to launch the infamous Grim Reaper ads.
Grim Reaper ad: At first, only gays and IV drug users were being killed by AIDS. But now we know every one of us could be devastated by it.
Neal Blewett: The Grim Reaper was essentially the result of the International AIDS Conference in 1986. Representatives at that conference in Paris came back alarmed by the evidence of the heterosexual spread of AIDS in Africa. It was a pretty memorable announcement. Australians still today talk about the Grim Reaper advertisements. In retrospect, I have some worries about that. I don't think I allowed sufficiently for the pain it would cause people with the disease because here's the Grim Reaper, a symbol of death and the disease. I'm sure that that did affect people in ways that were sad. On the other hand, it did have a massive impact, perhaps too big an impact, because suddenly our testing centres were overwhelmed with heterosexuals seeking to have tests.
Femi Oke: Fear was a powerful tool. Authorities the world over hoped it would create caution, but it also stoked shame and stigma.
Vince Crisostomo: The tenor was all over the place. You had people in denial; they would deal with it by drinking more. You had people who were terribly afraid and very fearful. I guess the other feeling that was very prevalent was just shock. And you had all these beautiful young people just dying.
Femi Oke: Vince was one of the lucky ones. He's now 60 years old, Director of Aging Services at San Francisco AIDS Foundation, and living in a time where HIV can be well managed if you have access to care and medication.
Neal Blewett is credited with paving the way for Australia's forward-thinking response to HIV. Australia now plans to end HIV transmission by 2025, a goal made possible by the discovery in 1983 of HIV, the virus that causes AIDS.
Vince Crisostomo: When they discovered HIV, it meant that it wasn't us: that it was a virus; that it was something that was happening outside of us; and that we could protect ourselves. And throughout our time with education, one thing we told people was the one thing we know: that it's preventable.
Neal Blewett: It removed a lot of the mystery about the disease. We now knew, in a sense, the identity of the enemy.
Femi Oke: The discovery of HIV paved the way for the treatment and prevention options that we rely on today. These would not have been possible without our next guest, Professor Françoise Barré-Sinoussi, the co-discoverer of HIV. In 2008, she was awarded the Nobel Prize in Physiology or Medicine for her work.
Françoise, it's so great to talk to you. When people talk about HIV science, they always talk about you in the same breath. When did you get involved in HIV science?
Françoise Barré-Sinoussi: I started really, let's say, by the end of 1982. At that time, I was already working on the family of viruses called retroviruses, and the relationship between retroviruses and cancer or leukaemia. The doctors in France who were taking care of the first AIDS patients in their hospital came to us at the Pasteur Institute because of the news that we were working on retroviruses, to ask a simple question: "Do you think that a retrovirus could be the cause of this new emerging disease?"
Femi Oke: I remember that being a very mysterious, scary time, and a lot of people were dying. As a scientist, how do you remember that time?
Françoise Barré-Sinoussi: It has been a really very difficult period. I mean, very hard. Because as scientists, of course, even after we isolated the virus, we knew that it would take time after the identification of the causative agent and the development of a treatment and the development of a vaccine. So, it was a controversy between the scientist and the human being. That was very, very odd. In addition, as a scientist, that was the first time in my life I met patients because I'm not a doctor originally. The patients who have coming to us were asking the simple question: "What is this virus? What are you going to do to cure us?" And what to answer to them? We knew that it would be long, and we knew that they would probably die before we had any treatment. So that was a terrible period.
Femi Oke: At what point did you realize how big the AIDS epidemic was? When did you know?
Françoise Barré-Sinoussi: The magnitude of the epidemic, I guess, became clear probably at the end of 1984, 1985. It's a period when we started to realize what was going on in Africa, where people were dying of AIDS over there. Initially, we did not know, also because the decision makers in those countries were against telling the world that they had the disease.
Femi Oke: I was looking, earlier on today, at some pictures of the Nobel Prize ceremony from 2008. And there's King Gustaf of Sweden, Queen Silvia of Sweden, the Swedish royal family, and then you. And right now, you are pretty much royalty in the HIV/AIDS world. But at that time, when you were standing there with your Nobel Prize …
Françoise Barré-Sinoussi: That's not the way I feel …
Femi Oke: Ask young people. They will just say, "Yes. You're royalty in the world of science and HIV science." You're right up there. But what did that achievement with your colleagues mean?
Françoise Barré-Sinoussi: The ceremony in Stockholm was a lot of stress for me, by the way, because there was a lot of media. You are with the majesty. Everything is perfectly organized. But it's quite magic at the same time to be there.
Femi Oke: Françoise , in this series, we're going to be talking to activists and we're going to be talking to scientists. Do you describe yourself as an activist?
Françoise Barré-Sinoussi: I'm not sure myself. Some activists are saying that. Not me. I'm not sure that I'm an activist. What I am sure of is that I cannot accept injustice. I cannot accept the inequity. I cannot accept discrimination and repressive measure against some people in the world, particularly those affected by a disease like HIV, but not only HIV. So maybe it's a reason that some people says that I'm an activist. But I can tell you that, from the first activist who said that, I took it as the most important compliment that I ever received in my life.
Femi Oke: Even in retirement, I know you stay in touch and up to date with HIV research. How close are we to having a cure?
Françoise Barré-Sinoussi: I would love to answer that question, but I don't know at all. I'm not sure we can really think about a cure. Personally, I prefer to think about a treatment that would induce lifelong remission. That would be great. The only thing I can tell you is that I'm not sure that my dream will be realized. One of my dreams is to leave this world having seen the remission for HIV. That would be really great. But whether I will see it or not, I don't know. I'm not sure.
Femi Oke: What is the proudest scientific moment in your life?
Françoise Barré-Sinoussi: Oh, I remember one when I was in a developing country. At the moment of the announcement of the Nobel Prize, I was in Southeast Asia. After the announcement, several people, including people living with HIV, came to me with congratulations and they came to me with flowers. But they had tears on their faces; they were crying. So, I asked them, "Why are you crying?" And the answer of one of them was, "Because we are thinking about the others who did not have the chance to meet you and are not alive anymore." And I remember this moment. I don't know that I was proud, but at least this is the moment when I was thinking to myself, "This Nobel Prize will be very important, not for me. It will be important to try to be the voice of those people, to be the voice of the others."
Femi Oke: Such an incredible inspiration, whose scientific efforts continue to be crucial to the HIV response today. And now another inspirational woman, an AIDS activist in South Africa, who is openly living with HIV. She's going to help bust some long-standing myths around HIV.
Vuyiseka Dubula: Hi, everyone. I'm Vuyiseka Dubula, an activist in South Africa.
Femi Oke: The first myth to bust is that AIDS was a US disease that only affected gay men, and women could not get it.
Vuyiseka Dubula: It's not true that HIV was only in America in the '80s. HIV was present in South Africa in the mines. In the mid-'80s, HIV was found amongst pregnant women, Black pregnant women, particularly Black African pregnant women in Johannesburg and parts of KwaZulu-Natal.
Femi Oke: Another myth is that access to scientific advances, such as HIV treatment, was equally available across the world.
Vuyiseka Dubula: Not true. I think there's nothing more horrible than to be diagnosed with a disease and be told on the very same day that there is no treatment for that disease. Why were you tested in the first place? When I went for my HIV test in 2001, many people in the US were living longer with the same disease I had because they had access to treatment and we didn't have access to antiretrovirals in South Africa. So basically, we were left to die from a preventable and manageable disease. And that drove me to the streets.
Femi Oke: Thank you to all our guests. Here's a final thought. What started off as a condition seemingly linked to gay communities soon turned into a global pandemic. By the end of 1985, every region in the world had reported at least one case of AIDS. The discovery of HIV was one of the early scientific breakthroughs that changed everything. With the virus known, target treatments became available, and tests and preventative measures could be taken. And this discovery would shape the next four decades of HIV cure research. But the issue of equitable access to the science prevails even today.
Vuyiseka Dubula: I think now is the time to reflect and say we need global civil society solidarity until there is an end to the patent regime. The patent regime must fall. It must fall, particularly for essential medicines.
Femi Oke: It was just as important then as it is now to follow the science, and we must stand on the shoulders of the scientists and activists who came before us if we are ever to end AIDS. Share your story. Join the conversation online with the hashtag #HIVunmuted for a chance to win an IAS membership.
In our next episode, we'll continue our journey through the HIV response as we move towards the 1990s, a decade that saw the advent of effective treatment, activists focusing on pharma companies, and campaigners fighting to make treatment accessible to all. This is HIV unmuted, and as our title says, you can't keep us quiet. Subscribe to the IAS podcast, HIV unmuted, wherever you get your podcasts.
Links
Find out more about the IAS Towards an HIV Cure programme
The IAS Towards an HIV Cure programme focuses efforts on advancing the HIV cure field in low- and lower-middle-income settings and facilitating interaction with HIV and other biomedical research areas. It does so by:
Promoting Science by leveraging the facilitating power of the IAS to promote scientific exchange and collaboration, and increase research literacy.
Empowering People by growing capacity-building programmes for HIV researchers and community advocates in low- and lower-middle-income settings.
Supporting Action by catalysing advocacy for the prioritization of HIV cure in the global health agenda by supporting a well-informed, multidisciplinary network.
Find out more at: iasociety.org/ias-programme/towards-hiv-cure