The history of the HIV response is woven into the International AIDS Conferences. Ground-breaking science and political activism at the conferences have uniquely shaped the trajectory of the response.  
Conferences in Canada have played key roles. In Montreal in 1989, protestors stormed the stage, establishing activism in the HIV response. In Vancouver in 1996, delegates celebrated a treatment revolution that saw HIV become a manageable condition.
Today, AIDS 2022 returns to Montreal and also takes place virtually. But other crises like monkeypox, surging COVID-19 cases and climate change, remind us why now more than ever, we need to re-engage and follow the science.
In this episode of HIV unmuted, the award-winning IAS podcast, we take a deep dive into the breaking science being released at AIDS 2022, address important access concerns at the International AIDS Conferences and understand how to translate cutting-edge science into meaningful action.
Meet our guests:
Erika Castellanos is Interim Executive Director of Global Action for Trans Equality (GATE). She tells us her story of growing up being denied basic human rights due to being trans and the difficulties she faced in accessing HIV medication. Erika analyses controversial visa issues around AIDS 2022 and helps us understand the community impact of the science being released at the conference.

Linda-Gail Bekker, former IAS President and current Director of the Desmond Tutu HIV Centre at the University of Cape Town, dives into the breaking science being released at AIDS 2022 and translates what this means for the HIV response.

John Nkengasong is tasked with leading some of the world's largest HIV programmes as the U.S. Global AIDS Coordinator and Special Representative for Global Health Diplomacy at the U.S. Department of State. He talks to us about why AIDS 2022 is so important and his vision for the future of the HIV response.
Guest bios
Erika Castellanos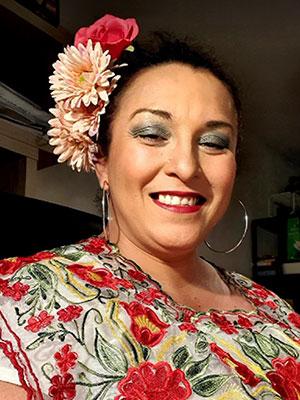 Erika Castellanos is a trans woman living with HIV. She is from Belize and lives in the Netherlands. A social worker by profession, Erika joined GATE in April 2017 as Director of Programs and has held the role of Interim Executive Director since February 2022. Erika plays an important role in the participation of trans people in several global key decision-making platforms and was the first openly trans advocate to be appointed as a member of the Board of the Global Fund.
Linda-Gail Bekker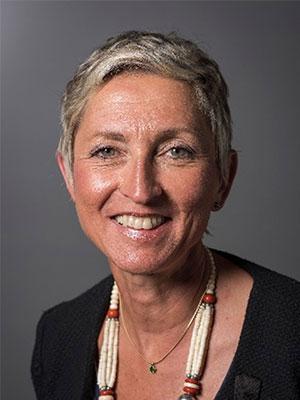 Linda-Gail Bekker is the Director of the Desmond Tutu HIV Centre at the Institute of Infectious Disease and Molecular Medicine, University of Cape Town, and Chief Executive Officer of the Desmond Tutu Health Foundation. She is a physician-scientist and infectious disease specialist. Her research interests include programmatic and action research around antiretroviral roll out, tuberculosis integration and prevention of HIV in women, young people and men who have sex with men. Linda-Gail has also recently been involved in COVID-19 vaccine trials and co-leads the Sisonke Phase 3B study, which has seen the vaccination of 500,000 healthcare workers in South Africa. She has led numerous investigator-driven studies on HIV treatment, prevention and tuberculosis. She is a Past President of the International AIDS Society and served as the International Co-Chair of IAS 2017, the 9th IAS Conference on HIV Science, and AIDS 2018, the 22nd International AIDS Conference. She was Co-Chair of HIVR4P 2020 // Virtual, the 4th HIV Research for Prevention Conference, in January 2021.
John Nkengasong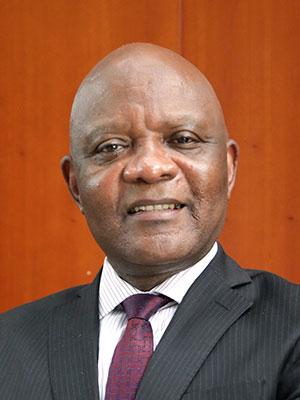 John Nkengasong is the U.S. Global AIDS Coordinator and Special Representative for Global Health Diplomacy at the U.S. Department of State. He was previously the first Director of the Africa Centres for Disease Control and Prevention. In 2020, he was appointed as one of the WHO Director-General's Special Envoys on COVID-19 Preparedness and Response and received the Bill & Melinda Gates Foundation's 2020 Global Goalkeeper Award for his contributions to Africa's response to the COVID-19 pandemic. In 2021, he was named as one of Times' 100 most influential people, Fortune's 50 great leaders and Bloomberg Businessweek's 50 most influential people. He has also served as Acting Deputy Principal Director of the Center for Global Health and Chief of the International Laboratory Branch, Division of Global HIV and TB for the U.S. Centers for Disease Control and Prevention (CDC). He has received numerous awards, including the Sheppard Award and the William Watson Medal of Excellence, the highest recognition by the CDC. He has been knighted in Cote d'Ivoire, Senegal and Cameroon for his contributions to public health. He is an adjunct professor at the Emory School of Public Health, Emory University, and Atlanta, Georgia.
Read the transcript
HIV unmuted: Episode 8 transcript
Femi Oke: Welcome to HIV unmuted, the IAS – International AIDS Society's – podcast. I'm your host, Femi Oke. We're here at the largest gathering on HIV, the 24th International AIDS Conference, AIDS 2022, taking place in Montreal, Canada, and virtually. The history of the HIV response is woven into the International AIDS Conferences. Ground-breaking science and political activism at the conferences have shaped the response. Conferences in Canada have played a key role, from 1989 in Montreal when activists stormed the stage to the discovery of effective treatment announced in Vancouver in 1996.
News clip: And it's actually become the seminal moment that the progress of HIV has been delineated from. Everybody now talks about "from 1996 onward". It was that profound.
Femi Oke: The 2022 conference in Montreal – in the face of other crises like monkeypox, surging COVID-19 cases and climate change – reminds us why we need to re-engage and follow the science. Later in this episode, we will be taking a closer look at some of the exciting breaking science being released at the conference. We'll be addressing a big concern, too – that in the lead up to the conference, many people from countries most affected by HIV have not been granted a visa to attend in person. We also speak to Ambassador Nkengasong, who is tasked with leading some of the world's largest HIV programmes. We hear how the conference plays a role in shaping his vision to reimagine the HIV response. But first, we speak to our guest, Erika Castellanos, acting Executive Director for GATE, who knows all too well the historical importance of the conferences for changing perceptions and attitudes. She tells us what it was like to grow up as a trans woman being disregarded for who you are.
Erika Castellanos: I was born and grew up in Belize and particularly in a very small town … fanatically religious to the point that everything that happens in the town is guided by the church. You know, growing up, it's very difficult when every day of your life you're being told you're going to burn in hell forever. And in that context, being able to feel proud and free and safe for who you are is very challenging. So, you develop survival strategies in a community that completely disregards you as a human being. You cannot open a bank account; you cannot get access to housing; you cannot go to higher education. That's the reality of countries where people are criminalized.
Femi Oke: Erika was diagnosed with HIV in 1995. At that time, there was little access to treatment. So, Erika was forced to resort to drastic measures to survive.
Erika Castellanos: I remember, as soon as we knew somebody from the community had died, we would run to their homes because we would want to get there before the family throws away the medication. And we had to [find] balance between showing respect for the pain the family was going through and at the same time needing that leftover medication. And that was the difference between staying alive or dying.
Femi Oke: Unequal access to HIV treatment remains a challenge for many still today. And it's not just unequal access to medication, but unequal access to conversations shaping the HIV response. Many people from low- and middle-income countries have not been able to secure visas to attend the conference in Canada.
Erika Castellanos: The issue around visas to attend conferences or any event that anyone organizes is always present. But this issue is not only about AIDS 2022 or any other AIDS Conference. This is a bigger problem that the world has. It's a bigger problem about inequality. The way countries decide immigration policies is a wider problem. There is a problem and communities want to participate, and it's extremely important that communities are there because then it becomes a gathering of academics and rich people from rich countries. And that's not the HIV response. The HIV response is multisectoral, putting people at the centre, and we have to be meaningfully engaged. If that doesn't happen, it's not an AIDS Conference, really.
Femi Oke: For Erika, there is no easy fix to the visa issue.
Erika Castellanos: I don't have the right equation of how to solve this because there's no country in the world that I can name that would not have a problem around visas … [that country] doesn't exist. Maybe in the future, we can have the conferences on the moon. People don't have to get visas for the moon. We have had conferences in global South countries, and we also had the visa issue.
Femi Oke: Safety is also a concern for Erika.
Erika Castellanos: I wouldn't want a conference to be hosted in a place where I'm considered a criminal, where I would have to go and be afraid of who I am, where I wouldn't be able to step out into the street because the police could arrest me or I could get killed. That's not the place I would like to be for a conference.
Femi Oke: It's deeply upsetting that not everyone who wants to attend the conference in person is able to. Despite her concern, Erika is optimistic about the use of technology to stay connected in the HIV response.
Erika Castellanos: The opportunity we have here is that the conference is hybrid. So, we should not be limited. I would love to hug everyone and welcome them. But if it's not possible, at least I can see you on a screen.
Femi Oke: Joining our conversation is Linda-Gail Becker, former IAS President and Director of the Desmond Tutu HIV Centre. She also feels strongly that everyone who wants to should be able to attend the conference in person. To help those who can't attend, Linda-Gail breaks down the latest HIV science being presented at AIDS 2022. So, Linda-Gail, what are the big stories coming out of this conference?
Linda-Gail Bekker: I'm pleased to say that often at our conference, there is progression in the field of cure. Let me start by saying, we have been able to figure out that there is such a thing as a functional cure, which, if you think about cancer, is a kind of remission. Somebody might be able to stop treatment for a time … have relief from taking treatment because their virus is controlled through immune mechanisms. So that's a functional cure. Then there's a cure, which means the virus is completely removed from the body.
Femi Oke: Which type is presented at AIDS 2022?
Linda-Gail Bekker: The story that we hear at AIDS 2022 is one of the latter … We know that some of the treatment for leukaemia may be bone marrow ablation or removal and then a transplant with genetically changed T cells that are inherently resistant to HIV. When you put the new cells in, the virus can't take hold. And so effectively, you now have resistance to HIV and the body is able to make sure that HIV doesn't come back. And that is the place where we end up with a cure. It really is exciting because again, it gives a proof of concept that cure is possible. And this is really helping scientists to understand what is feasible.
Femi Oke: This example of a classic cure, called the City of Hope Patient, might be exciting for researchers as proof of concept, but what about for people living with HIV? With a number of treatment options available today, Erika, how important is a cure?
Erika Castellanos: The City of Hope and the New York Patients for me and for our community is huge hope. It fills me with overwhelming happiness to know that in the future, there don't have to be other people living with HIV.
Femi Oke: Linda-Gail, until we have a scalable cure, what are the options for HIV prevention? Is there any news from AIDS 2022 on that front?
Linda-Gail Bekker: Yeah. Treatment has become so much more amenable for folk and that's really important. In the last 10 years, we have made unbelievable strides in the field of antiretrovirals as prevention. This is an important concept of pre-exposure prophylaxis. This means you take an antiviral daily and it protects you against the possible acquisition of HIV at the time of exposure. It is a pre to stop something happening, a little bit like how contraception prevents pregnancy. We have two great studies at AIDS 2022 on the concept of long-acting pre-exposure prophylaxis. We have daily PrEP, but long-acting PrEP again is going to be very important for folk who struggle to do something daily. And many of us do. I'm a terrible pill taker. For folk who struggle to do that, now we have an injectable Depo-type of PrEP that goes into the muscle in the butt and you only need to come back every eight weeks – six interventions every year to prevent HIV. Now the studies are looking at HIV prevention among people who are transgender and undergoing gender-affirming hormonal treatment. We always worry that there may be drug-drug interactions with hormones. And this study, happily, tells us that we don't see any interaction between the hormones that are being used for gender-affirming treatment and the long-acting PrEP.
Femi Oke: Erika, what impact do additional HIV prevention options like long-acting PrEP have on communities?
Erika Castellanos: As a transgender woman, I consider the inclusion of transgender women in the study crucial because it looks at the interactions between hormone therapy and the drug itself – something that has been taboo in our community, with many doctors in lower-middle-income countries actually asking trans people to choose between your hormones or your prevention or your ARV treatment, which is completely wrong. It doesn't have to be one or the other. It has to be a combination of options of tools.
Femi Oke: With expanding HIV prevention options, some people are concerned about other sexually transmitted infections. What are we seeing as a future of the response to STIs like gonorrhoea, chlamydia and syphilis?
Linda-Gail Bekker: As I mentioned earlier, pre-exposure prophylaxis is a huge breakthrough for HIV prevention. And we are really trying to scale this up around the world. One of the consequences of it is, on the one hand, that people are stepping up for services and discovering that they may also have co-infection with sexually transmitted infections. But also, we are finding that folk are liberated by the fact that they are protected by pre-exposure prophylaxis. And perhaps we are seeing fewer condoms being used and, as a result, more sexually transmitted infections.
One of the most exciting studies at AIDS 2022 was the study explaining the very innovative use of prophylaxis for STIs. In a similar way that we are now preventing HIV acquisition by prophylaxing with antiretrovirals, can we prevent STIs by prophylaxing with antibiotics? And this notion of DoxyPEP is that when individuals who are using PrEP or, in this case, individuals living with HIV, had an exposure, they were asked to take a single tablet of doxycycline, which treats, in particular, chlamydia trachomatis, within 72 hours of the exposure. The very good news from this innovative study is that we saw a much lower rate of the STI in the individuals who used the DoxyPEP: both people living with HIV and HIV-negative individuals using PrEP.
And this becomes another tool in our armamentarium against sexually transmitted infections now.
Femi Oke: Researchers are adding more tools to the arsenal, but how useful is this in the day-to-day lives of people who are most vulnerable to HIV?
Erika Castellanos: This is a huge innovation because, in many instances, vulnerable communities do not have the power to be able to negotiate condom use, for example, and having this option is crucial for these communities. I consider it a great advancement and another addition to the choices that one can have when it comes to sexual health.
Femi Oke: It's not just innovations for cure and prevention. We're also hearing about success stories for country treatment targets. Why is the study on Botswana so exciting?
Linda-Gail Bekker: Botswana has been the sort of jewel in the African crowd right from the beginning of the epidemic. Really, once treatment became available on the continent, Botswana was the first country to roll out nationwide antiretrovirals. They've been the first country to eliminate vertical transmission. We are all very proud of what Botswana has been able to achieve. It's a country that has set its goals and gone for those goals. In front of all of us are the UNAIDS goals that have been set at regular intervals of 90-90-90. What that tells us is that we really want to set out to make sure that at least 90% of people around the world have been tested for HIV; of those who test positive, 90% should be on antiretrovirals; and of those who are on antiretrovirals, 90% should be virally suppressed. I can tell you that Botswana not only reached their 90-90-90 goals; this study has shown that Botswana has indeed reached 95-95-95.
Femi Oke: This is a great achievement for the HIV response and a story that we hope to see replicated in other countries at future conferences. One person who can support other countries as they build on Botswana's success is Ambassador Nkengasong, leading the United States President's Emergency Plan for AIDS Relief, also known as PEPFAR. Ambassador, why is AIDS 2022 so important?
Ambassador Nkengasong: AIDS 2022 is an exciting conference. My appeal is that we should be looking at financial sustainability and make sure that the Global Fund Seventh Replenishment exceeds the $18 billion target. If we do that and couple that with the resources that PEPFAR is making available on a bilateral basis, then we can sustain the HIV and AIDS response.
Femi Oke: Re-engage and follow the science is the theme of AIDS 2022. Given that many countries still do not follow the science and we are competing with other outbreaks and crises, what does the HIV response need to do?
Ambassador Nkengasong: We have to make sure that there's enough political leadership in shaping the future of resources that are required, not just in terms of health outcomes, but economic and developmental outcomes. The world has spent trillions of dollars trying to recover from the impact of COVID. I think the case is clear to be made that unless and until we apply political commitment, they will continue to threaten other sectors of life.
Femi Oke: We have seen a lack of political commitment cause inequities time and time again in many public health responses. How do inequities threaten global health security?
Ambassador Nkengasong: The COVID-19 pandemic has taught us several lessons. Some of them we knew, but we just didn't know how profound they were in terms of inequities. That brings me to the question of how we design our security architecture to be more responsive.
Femi Oke: If you want to know more about how the innovations from COVID-19 can be applied to HIV, read the International AIDS Society's report found in the show notes. Finally, Ambassador, why haven't we ended AIDS as a public health threat and how has HIV ended up as the silent pandemic?
Ambassador Nkengasong: First of all, let's follow the science. HIV is a formidable virus. When HIV was just first identified, everybody thought that within a few years, a vaccine will be produced and will get it under control. We are 40 years into the fight. And it just tells you how hard it has been. It also tells you how difficult and challenging a virus it is. The virus mutates all the time and produces new variants that are difficult, extremely difficult, to make a vaccine against us. But we've made remarkable progress. Why have we not achieved that success that we wanted to? One [reason] is discrimination. So, let's work on stigmatization. Let's work on ways that we do not criminalize people. And in communities, [let's work on] leadership, not engagement. That is where the fight is. I mean, we have to take the fight to the community and let the community lead the response.
Femi Oke: Community leadership is how we will translate the latest science from AIDS 2022 into meaningful action. The IAS remains deeply concerned that representatives from communities will not be able to participate in the conference. As Erika Castellanos says,
Erika Castellanos: We need to move beyond community engagement. It's not enough to be on the table anymore. It's time to have community leadership. It's time that we be the ones that shape the path moving forward.
Femi Oke: ViiV Healthcare's work with communities most affected does just that.
VIIV commercial: We won't stop until ambition becomes success and the impossible becomes achievable, until our research offers more ways to treat, prevent and hopefully one day cure HIV because we are ViiV Healthcare, here until HIV and AIDS are not.
Femi Oke: Science alone will not end AIDS as a public health threat. While the exciting studies presented at AIDS 2022 of developments towards a cure, innovation in prevention and country success stories provide hope, people living with and affected by HIV need more than hope. They need action. The IAS unites the global HIV response because progress happens when science, policy and activism come together. It's time to re-engage and follow the science. Join us at the 24th International AIDS Conference, AIDS 2022, virtually or in person in Montreal. I'm Femi Oke for the IAS – International AIDS Society's – podcast, HIV unmuted, and. And you can't keep us quiet.