All registrations for IAS 2023 must be submitted through the online registration form.
Media registration is free for accredited journalists.
Please note that it is the delegate's responsibility to investigate visa requirements for Australia and apply for a visa, if necessary. Delegates are advised to apply for their visa as soon as possible. For more information, please visit our Immigration page and Visa FAQs.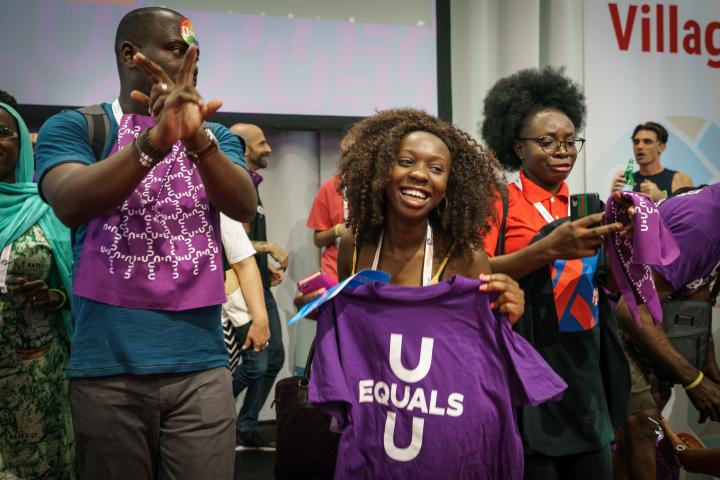 In-person plus virtual conference registration includes:
In-person access to all conference sessions, satellite sessions, poster discussion sessions and the exhibition

Online access to all conference sessions and satellite sessions streamed live on the virtual platform, session recordings and on-demand content, the virtual exhibition and e-posters throughout the conference and after
Virtual conference registration includes:
Online access to all conference sessions and satellite sessions streamed live on the virtual platform, session recordings and on-demand content, the virtual exhibition and e-posters throughout the conference and after
Upper-middle-income countries
Lower-middle-income countries
Students/postdocs/youth (under age 26)**
Upper-middle-income countries
Lower-middle-income countries
Early fee
(excluding GST)*
Standard fee
After 13 February 2023, 23:59 CET
(excluding GST)*
Late fee
After 3 May 2023, 23:59 CET
(excluding GST)*
Early fee

(excluding GST)*

Standard fee

After 13 February 2023, 23:59 CET
(excluding GST)*

Late fee

After 3 May 2023, 23:59 CET
(excluding GST)*

Regular delegates

High-income countries

USD 780

USD 930

USD 1040

Upper-middle-income countries

USD 540

USD 640

USD 720

Lower-middle-income countries

USD 490

USD 580

USD 650

Low-income countries

USD 430

USD 520

USD 580

Students/postdocs/youth (under age 26)**

High-income countries

USD 220

USD 260

USD 290

Upper-middle-income countries

USD 190

USD 230

USD 260

Lower-middle-income countries

USD 170

USD 210

USD 230

Low-income countries

USD 160

USD 190

USD 210

Media

All countries

Free

Free

Free
Upper-middle-income countries
Lower-middle-income countries
Students/postdocs/youth (under age 26)**
Upper-middle-income countries
Lower-middle-income countries
Early fee
(excluding GST)*
Standard fee
After 13 February 2023, 23:59 CET
(excluding GST)*
Late fee
After 3 May 2023, 23:59 CET
(excluding GST)*
Early fee

(excluding GST)*

Standard fee

After 13 February 2023, 23:59 CET
(excluding GST)*

Late fee

After 3 May 2023, 23:59 CET
(excluding GST)*

Regular delegates

High-income countries

USD 620

USD 740

USD 830

Upper-middle-income countries

USD 430

USD 510

USD 580

Lower-middle-income countries

USD 390

USD 460

USD 520

Low-income countries

USD 340

USD 420

USD 460

Students/postdocs/youth (under age 26)**

High-income countries

USD 180

USD 210

USD 230

Upper-middle-income countries

USD 150

USD 180

USD 210

Lower-middle-income countries

USD 140

USD 170

USD 180

Low-income countries

USD 130

USD 150

USD 170

Media

All countries

Free

Free

Free
Upper-middle-income countries
Lower-middle-income countries
| | Regular delegates* |
| --- | --- |
| High-income countries | USD 480 / day |
| Upper-middle-income countries | USD 330 / day  |
| Lower-middle-income countries | USD 300 / day  |
| Low-income countries | USD 260 / day  |
Early fee
(excluding GST)*
Standard fee
After 13 February 2023, 23:59 CET
(excluding GST)*
Late fee
After 3 May 2023, 23:59 CET
(excluding GST)*
Early fee

(excluding GST)*

Standard fee

After 13 February 2023, 23:59 CET
(excluding GST)*

Late fee

After 3 May 2023, 23:59 CET
(excluding GST)*

All countries

USD 50

USD 60

USD 70